Regular price
Sale price
$4.99 USD
Unit price
per
Sale
Sold out
In stock
Share
ARGO Corn Starch Tub 16 ounce (1 Pound) Resealable Plastic Container
Low Calorie and Low fat Low Sodium
Can be used as a thickener for sauces, gravies and pudding
Allow the natural flavor of the food to come through
Gluten-free., A Gluten-free food. 100% pure., Thickens sauces & gravies. Great for baking., Over 100 years of quality.
Argo corn starch has twice the thickening power of flour. When a gravy, sauce, or soup calls for flour, use half as much corn starch to thicken. 
Get Food service quality at home with ARGO Cornstarch
Comes in a recyclable, Stay-Fresh Container

Use Argo Corn Starch to thicken any dish or sauce where a clear, glossy sauce is desirable. Argo Corn Starch has twice the thickening powder of flour. When making recipe substitutions, use only half the amount of corn starch compared to flour, e.g. if the recipe called for 1 cup flour, use ½ cup Argo Corn Starch. Always mix Argo Corn Starch with a cold liquid before adding to hot liquids to prevent lumping. For maximum thickening and clarity, bring a cornstarch-thickened mixture to a full boil. Convenient re-sealable packaging; no mess, easy storage, A nearly flavorless thickener, Argo corn starch allows the natural flavor of the food to come through and has been a trusted name in corn starch for over a century. Corn starch can be used as a thickener in pies, puddings, custards, and cake filling. It is also Free of Gluten, MSG, Soy, Milk, Eggs, Peanuts and Tree Nuts, making it the perfect substitute in cooking and baking when flour and other glutinous starches must be avoided.



Argo Corn Starch is revered by chefs for its purity and consistent performance in any recipe calling for corn starch.
With every use, Argo Corn Starch ensures smooth, clear sauces, lump free gravies, and reliable thickening - in fact it has twice the thickening power of flour. It dissolves easily and it's flavorless so it never alters the taste of the recipe.
No wonder it's the most-used corn starch brand in foodservice.
View full details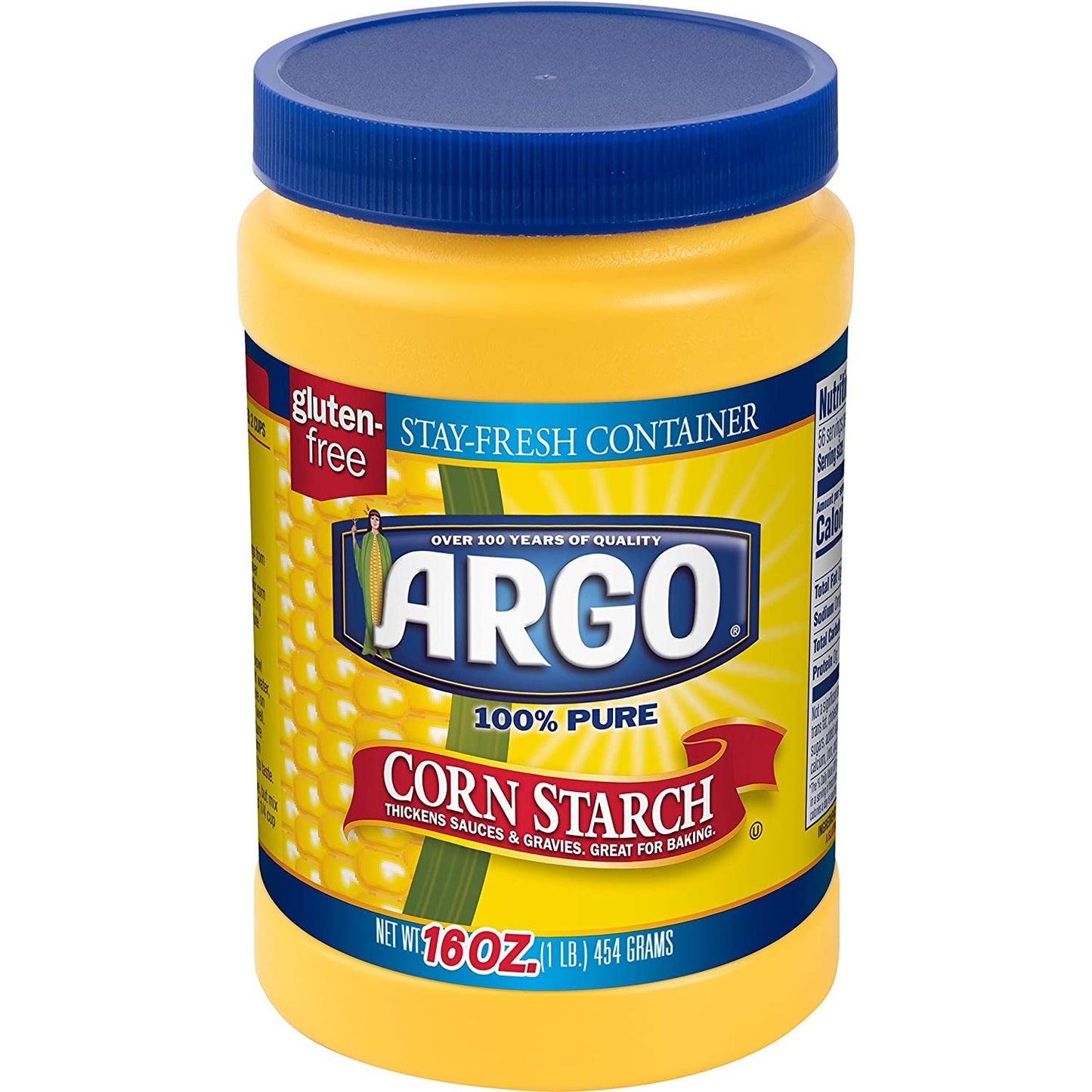 Processing time may very based on the products ordered. We have multiple warehouses throught the USA and globe we operate with which may increase processing time. Please see the shipping policy below for more details.