Regular price
$0.00 USD
Sale price
$3.49 USD
Unit price
per
Sale
Sold out
Out of stock
Share
Idole Carrot Soap contains carrot oil with B-Carotene (pro-vitamin A). It is a soft and delicate soap for personal washing. It naturally protects your skin and helps to keep it smooth and young. Each bar weighs 100 g.

Idole Carrot Soap 100g Bar Soap - Illuminate Your Skin
Enhance your skincare routine with Idole Carrot Soap.

Discover Radiant Skin with Idole Carrot Soap

Unveil your skin's natural glow with Idole Carrot Soap, a 100g bar soap renowned for its skin-brightening properties. Infused with the power of carrot extract, this soap is designed to leave your skin looking refreshed, vibrant, and flawless. Elevate your skincare routine and let your inner radiance shine through.


Key Features:
Carrot Extract Magic: Idole Carrot Soap is enriched with pure carrot extract, a natural ingredient celebrated for its skin-brightening and tone-evening benefits.
Hydrating Elegance: This soap isn't just about beauty; it's about care. Enjoy the moisturizing touch that leaves your skin feeling soft, supple, and well-nourished.
Antioxidant Shield: Carrots are packed with antioxidants that help protect your skin from the effects of daily exposure to the elements, leaving it looking youthful and rejuvenated.


Why Choose Idole Carrot Soap?

Idole Carrot Soap is your passport to radiant, youthful-looking skin. Harness the power of nature with this skin-brightening bar soap, perfect for all skin types. Illuminate your beauty today!

Note: Individual results may vary. Perform a patch test if you have sensitive skin or allergies.
 
View full details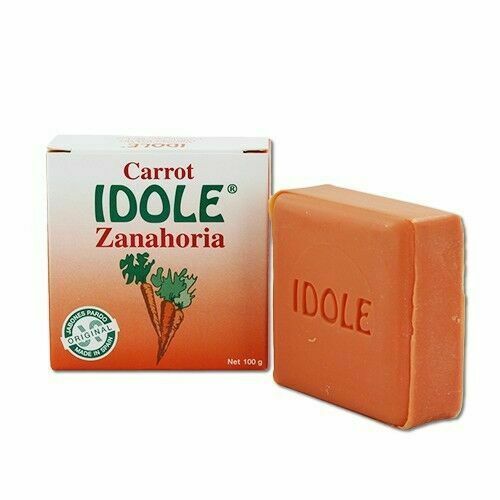 Processing time may very based on the products ordered. We utilize multiple warehouses throughout the USA and globe to operate with which may increase processing time. Please see the shipping policy below for more details.